In today's fast-paced and ever-evolving business world, the role of a facilitator has gained a more significant role than we might realize. Attending a community of practice (CoP) session hosted by Janice and Prabu opened my eyes to the power of facilitation competency and its roots in organisational theory. It was an enlightening experience for me and emphasised the importance of learning better facilitation skills. In this article, I will share my key takeaways from the CoP session and explore how becoming a better facilitator can elevate a workshop from good to great.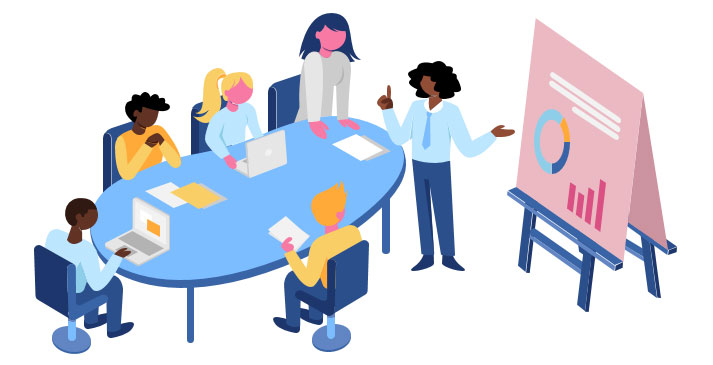 Facilitation: A Newcomer's Journey
Having attended multiple workshops, meetings (by the thousand!) and training sessions during my career, I thought I knew what facilitation meant. Had I known earlier about the facilitation as taught by the Facilitators Network Singapore (FNS), I would have incorporated it into my skillset long ago. As a newbie to the world of facilitation, I will first share a definition as this helps frame the context of my learnings. The UK Institute of Cultural Affairs defines facilitation as "a set of skills to be used in working with a group, enabling and supporting them to achieve their objectives in a way that involves and respects all contributions, builds ownership and releases the potential of the group and its members[1]".
The Relationship between Facilitation and Organisational Theory
Within the realm of organisational theory, facilitation emerges as a powerful force that drives interaction and fosters collaboration. Having studied for an MSc in Organisational Behaviour in the past, I can see how the practice of facilitation draws on various organisational theories to guide its approach. Although I am new to the discipline, I realised that facilitation draws upon a diverse range of frameworks depending on the specific context and objectives. Here are just a few high-level examples:
Our Task: Facilitating an Executive Workshop to Create a 5-year Strategic Plan
On the day of the CoP session, our goal was to prepare a hypothetical workshop facilitation for a group of executives who were required to create a 5-year strategic plan. At first, it seemed straightforward, but when we delved into the intricacies of the process, I found much more was required:
Embracing complexity: the outward challenge of 5-year strategic planning and its variables
Agile thinking and adaptability: responding to shifting dynamics during the briefing call
Organisational skills: creating a seamless workshop outline
Distilling complexity into clarity: simplifying the process and articulating outputs
Next, we began the process of preparing for and executing the D1 (Determine requirement) meeting with the sponsor for the 5-year strategic plan workshop and clarifying the output. Here I learned the importance of the 3 O's (Objective-Output-Outcome).
Understanding Objectives: The Three O's for Strategic Planning
During the D1 preparation exercise, our facilitator Janice emphasised the significance of defining clear objectives, outcomes, and outputs (the Three O's) for the executive workshop. This includes gaining a deeper understanding of why the session is being held and exploring past meeting experiences. Facilitators must ask the right questions during the preparation phase, in this case, a short meeting with the sponsor to elicit actionable insights from the executive client. Janice also pointed out that we must always go into the meeting prepared with knowledge of the company's publicly available information to save the client's time.
Here are just some of the questions that could potentially be asked during a D1 meeting with an executive requiring a strategic planning workshop:
What are the desired objectives, outcomes, and outputs you envision for the session? (3 O's)
Can you provide insights into why you feel facilitation is necessary for this particular session?
Why have you chosen to have this session at this particular time?
What has been done in past meetings or initiatives related to this topic?
Can you share the vision and values that should guide the session and its outcomes?
Could you share any specific challenges that you would like to address during the session?
Can you provide information about the audience profile, their roles, and their expectations?
Who are the key stakeholders involved in this session?
Are there any group dynamics or relationships that we should be aware of before the session?
Are there any specific key performance indicators (KPIs) or metrics you would like us to consider for measuring the outcomes of the session?
Customising the Approach: Tailoring Techniques to Workshops
During the CoP session, I learned that facilitators should consider the detailed, specific needs and dynamics of the team.  I came to understand the importance of scoping the facilitation process appropriately, allowing sufficient time for meaningful conversations, and fostering collaboration among executives. Small group discussions, brainstorming exercises, and interactive activities are useful tools to facilitate effective communication, strategy, and decision-making. As Prabu shared, a lecture-style approach from the facilitator should be avoided.
Another takeaway for me was the application of different types of organisational analysis. This can help facilitators tailor their approach to meet the specific needs of the session. Apart from the well-known SWOT (Strengths-Weaknesses-Opportunities-Threats) analysis, we discussed PESTEL (Political, Economic, Social, Technological, Environmental, and Legal), an analytical framework that helps organisations understand the macro-environmental factors that can impact their operations and strategies. Facilitators can guide participants through a PESTEL analysis to gain insights into the broader context in which the organisation operates, identify emerging trends, and assess the potential impact of these factors on their future business plans.
From Good to Great: Output from the FNS session
Following a guided collaboration with the CoP attendees on the day, our group's output (which needed some refinement!) for the executive facilitation session looked something like this:
Objectives:
Ensure universal understanding and agreement on the 5-year plan.
Identify and address gaps in current strategies and resources.
Establish alignment on priorities among stakeholders.
Mitigate conflicts and foster a harmonious working environment.
Reinforce the relevance of the organisation's mission and vision.
Output:
List of areas for improvement and growth.
5-year strategic plan that outlines the organisation's path forward.
A detailed action plan with specific tasks and timelines.
Outcome – 5-year plan:
A deep understanding of members' needs and aspirations.
Clarity of goals and objectives.
High levels of member engagement and excitement.
Active involvement of all members, fostering a sense of ownership and commitment to the goal-oriented plan.
I am sure I could not have achieved this output without guidance from Janice and Prabu during the session. I learned that from the context of identifying diverse stakeholder perspectives to workshop implementation, facilitators are enablers to ensure the workshop output is directly applicable to the organisation's goals.
Conclusion
Facilitation has a transformative power to improve various meetings and training sessions at the community or organisational level. It ensures the productive use of time, and participation from the entire group and deliver outcomes for success. During the CoP, my expectations for learning and networking were exceeded. I gained a deeper understanding through hands-on experience. At FNS events, active engagement is prioritised, providing practical techniques that can be implemented in a variety of real-world business contexts. By integrating organisational theories, customising approaches, engaging stakeholders, embracing change management, and fostering collaboration, facilitators can elevate teams to success.
Contact FNS today to find out how to elevate your facilitation skills and unleash them on your business at admin@fns.sg or visit their website at www.fns.sg for more information.
This article was written by Holly Naylor, a British content writer specialising in sustainability who has lived in Singapore for 14 years. Holly helps businesses of all sizes craft their sustainable branding message on their websites, in reports, and much more. Connect with Holly on LinkedIn or email holly@theinspireandcreate.com.
References
[1] ICA-UK. (n.d.). What is Facilitation? [Online]. Available at: https://ica-uk.org.uk/what-we-mean-by-facilitation/  [Accessed: 22 May 2023]